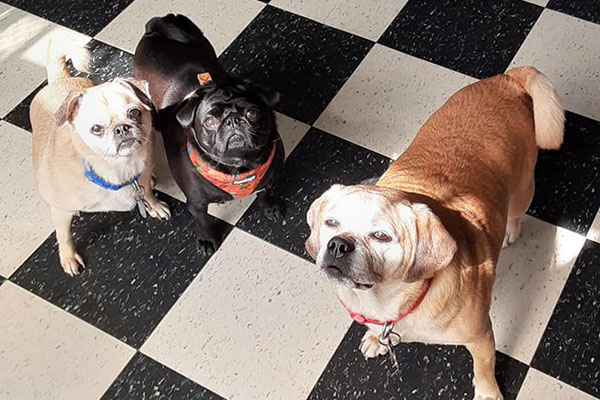 Our groomers have over 25 years of combined experience. We will be happy to work with you to ensure that your dog (or cat) comes home with the look you want!
We never use any types of sedatives or harsh restraints and promise to treat you pet with kindness and compassion.
Call us for prices (which can vary depending on the size of the dog, condition of the coat & the animal's temperament)
We offer discounts for boarding dogs getting groomed.
Grooming Policies
Cancellation Notice
In order to schedule grooming appointments for the convenience of our clients, we must make maximum use of every appointment slot. We confirm all appointments by phone call. Clients who cancel fewer than 24 hours before their appointment or who do not show up for a scheduled appointment will be rescheduled only after other clients have been accommodated. We may charge a "no show" fee and we reserve the right to decline future appointments for clients who fail to keep a scheduled appointment three times in a calendar year without adequate prior notice.
De-Matting Fee
Matted/Neglected Coat: Please keep in mind excessive de-matting is a painful, time-consuming, and costly procedure. Pets with matted coats require extra attention during their grooming session. Mats left in the pet's coat only grow tighter/larger and can strangle the pet's skin, bruise areas and cause secondary skin issues. Mats can be very painful and difficult to remove and may require the pet to be shaved. The groomer will de-mat the pet (if humanely possible) for an additional cost. A matted pet shave down fee may apply to any matted pet that must be shaved to remove their mats. Unless stated prior to the grooming procedure, your pet may be shaved based on the severity of the pet's coat/skin condition and your groomer's discretion. When necessary, removing a heavily matted coat includes risk of a dramatic change in your pet's appearance, brief behavioral changes, hyper pigmentation, hotspots, nicks, cuts, bruising, swelling, abrasions due to warts, moles or skin folds trapped/hidden in the mats. After effects of mat removal can cause all of the above and result in your pet(s) having self-inflicted wounds. Heavy matting can also trap moisture and urine near the pet's skin allowing mold, fungus, or bacteria to grow, causing skin irritations that existed PRIOR to grooming process. Close shaved pets are also prone to sunburn and should either have sunscreen applied daily or be kept out of excessive sun until the hair grows out.
Behavioral Issues
We will make every attempt to groom uncooperative pets, but we may not be able to complete grooming on pets that pose a threat to themselves, other pets or our groomers. We reserve the right to decline a return appointment for pets whose behavior makes it unsafe for us to groom them. Aggressive or Dangerous Pet(s): Owners MUST inform Maureen's staff if your pet(s) does not tolerate grooming procedures, bites, has bitten or is aggressive towards people or dogs. For the safety of your pet(s) and/or groomer, a muzzle, elastic collar, slings, straps, etc. will be humanely used and are acceptable. Additional fees may apply to services provided for aggressive/dangerous pets.
Fleas and Ticks
If you suspect your pet has fleas and/or ticks, prompt and thorough action on YOUR part is needed. All pets who are serviced through our salon must receive flea/tick treatment in the instance we discover such parasites, to maintain a sanitary and safe environment for all of our clients. Flea and tick removal will result in an additional cost.
Health
All dogs must have current rabies vaccinations -- even those who are only getting their nails cut. Cats must have current rabies vaccinations. We reserve the right to decline to serve pets that are not current on vaccinations.
Payment
Payment is due at the time of service, NO EXCEPTIONS. Owner shall be liable to Maureen's Doggy Daycare for all unpaid charges. All charges are non-refundable. Checks returned as NSF will be subject to a late fee of $30 to cover bank fees and no further service will be provided to this client's pet until payment has been made. Your quoted price is subject to change upon completion of the groom based on the coat condition and temperament of the pet(s). A 50% deposit is required to hold all reservations during the listed holiday/rush dates.
Pick-up and Drop-off
Dogs will be given an ESTIMATED time of completion upon drop-off. Please understand that this is an estimation and for many reasons beyond our control, circumstances may arise where grooming may be done early or may take longer than initially quoted. You will be called when your pet is ready for pick-up. Dogs must be picked up within 1 hour after you have been called for pick-up, unless you have pre-arranged boarding or daycare transition after your grooming service. If your dog is not picked up within the hour of being called, you will be charged a $10 holding fee. Due to available salon kennel space we cannot accept clients any sooner than 15 minutes before their scheduled appointment unless they have pre-arranged daycare or boarding accommodations.
Groom/Bath Completion Time
Every effort will be made to keep our scheduled grooms running smoothly. A typical pet groom can be completed in 2-4 hours from the time of your appointment. If your pet has behavior/health issues or skin/coat conditions it may take longer to complete the groom. If you need your pet returned by a certain time please keep that in mind when booking your appointment and please kindly remind us of your time restrictions during check in. We are happy to work with you as much as possible, but can only work on so much of a time restraint safely.